The Virgin River Program operates primarily within the state of Utah along the Virgin River and its tributaries in Washington County. Activities are being conducted for species in different locations. Woundfin, Virgin River chub, Southwestern Willow Flycatcher, flannelmouth sucker, desert sucker, speckled dace, and Virgin spinedace are all found in or near the mainstem Virgin River below La Verkin Hot Springs hot springs. Tributaries of the Virgin and those areas above La Verkin Hot Springs have different species assemblages. Efforts have focused on nonnative species removal, water temperature management and revegetation.
Red Shiner
Red shiner are a nonnative fish species that prey upon and compete with the six native fish species. Observations show that native fish cannot survive in the presence of these nonnative fishes. Red Shiner are the largest threat to Virgin River native fish recovery. Red shiner have been eradicated from above the State Line Fish barrier since 2013 and the VRP has been working with partners to remove them from the areas downstream from that point.
Fish Barriers
Three fish barriers have been constructed on mainstream Virgin River.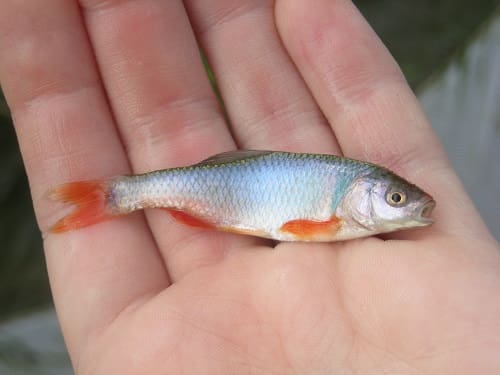 St. George Washington Fields Diversion
Since the late 1800's, the St. George Washington Fields Canal Company has been diverting water from the Virgin River for agricultural needs. Due to the rights of the canal company, to take all of the water in the river at river levels bellows 86 cfs, this occasionally meant that endangered fish would be pulled into the canal where they would perish. In order to prevent this ongoing problem, the Program worked with the Canal Company and the Washington County Water Conservancy District to install 5 moving screens on the canal. These screens prevent fish from going into the canal. The screens also serve to keep debris out of the water entering the canal, which enabled the piping of the canal to occur for water savings and closure of the open canal. Washington Fields Fish Screens screens native fish from the water going to the St. George and Washington Fields Irrigation Company, providing ESA compliance and maintaining number of native fish in the river.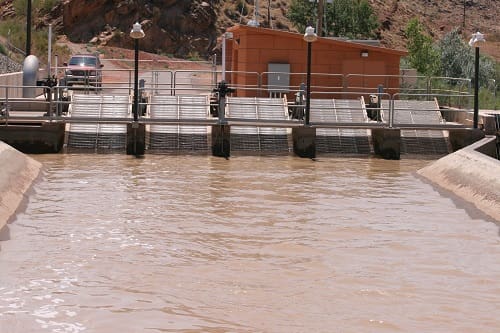 Pumpback System
In 2012 the Program, working with the WCWCD, constructed and put online the Pumpback System. This project, allows the WCWCD to provide the Hurricane area with irrigation water stored in Sand Hollow while allowing the same amount of water to not be diverted from the Virgin River. Only run during the summer, this project helps keep water temperatures lower resulting in better survival of native fish.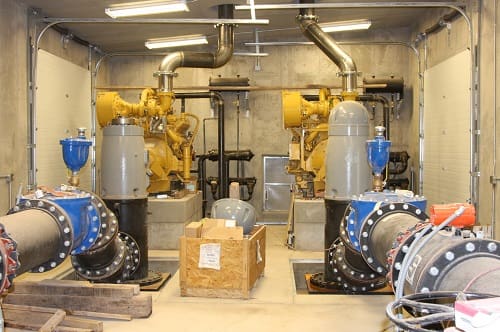 In order to aid recovery efforts, fish produced from Southwestern Native Aquatic Research and Recovery Center (SNARRC) have been stocked into the Virgin River and select off-channel sites (ponds). Since 2003, approximately 200,000 woundfin have been stocked into the Virgin River while approximately 40,000 Virgin River chub were stocked into the Virgin River during that same period. The stocked fish have been market with VIE (Visual Implant Elastomer) or coded wire tags. All fish are being monitored by the Utah Division of Wildlife Resources (UDWR). Currently the fish used for stocking have come from the U.S. Fish and Wildlife Service's Southwestern Native Aquatic Research and Recovery Center (SNARRC) in Dexter, New Mexico and the State of Utah's Wahweap State Fish Hatchery, in Big Water, Utah. Research intended to help maximize growth and survival of hatchery reared fishes is being conducted for the Program at the USFWS's Bozeman National Fish Technology Center in Bozeman, Montana. Please see our Newsletters for more information on these three facilities.
The Program is constantly trying to learn more about the fish and how they react to change within their environment. These changes may be related to flow, turbidity, temperature, or interactions with other species. If a question arises, the Program will fund studies to determine how best to address the question or problem. Current research is ongoing to determine the effects of fire runoff on the native fish populations as well as helping to enhance our hatcheries.
Limiting Factors
We are always trying to determine how we can manage this unpredictable system of the Virgin River. It takes time to evaluate issues and then use sound science and adaptive management to make decisions that will best help the fish and be appropriate longer term. Some issues that have been evaluated are runoff from fire burned areas, how to manage hot summer temperatures (pumpback system), nonnative fish and turbidity levels.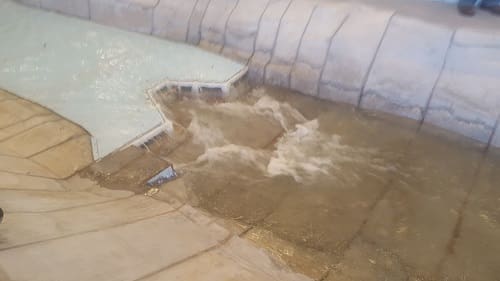 Population Monitoring
Population monitoring is conducted by the UDWR to determine the status of populations as well as the effects of various natural and/or human caused alterations to the river and its inhabitants. Monitoring occurs on a variety of levels from full passes, to monthly sampling of five "population monitoring" stations located in representative reaches of the river. Annual monitoring of 10 sites between Pah Tempe and Lake Mead comprises the Virgin River Fishes Recovery team sampling. This sampling has been accomplished since 1976 in both spring and fall and is designed specifically for tracking trends in woundfin populations.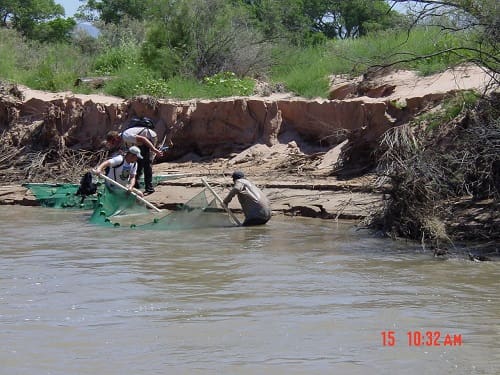 Red Hills Desert Garden Stream
Aquaria at WCWCD and St. George Children's Museum
School presentations
Internship Program (temporarily suspended)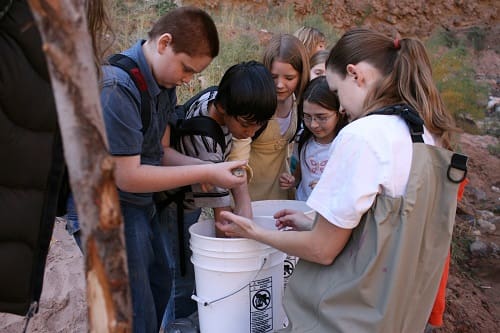 Working with Communities
The VRP serves as the Endangered Species Act Compliance for local communities. By working with the VRP, municipalities, other local governments and private citizens can be covered for take of endangered species.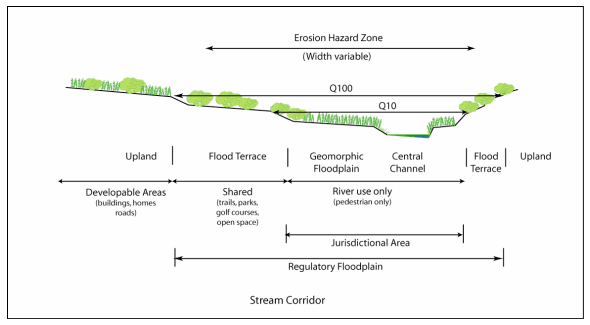 Working towards recovery of the endangered Southwestern Willow Flycatcher requires not only creating new habitat and enhancing existing habitat but also working to reduce threats from predators and parasites (other birds). These activities generally take place in marshy areas near waterways.